About the Author
Dr. Michael "Mike" Kruger is a facilitator, trainer and executive coach. He also has extensive leadership and project management experience in both technical and administrative organizations. He has written articles on communication, performance management, training and other Human Capital Management topics. In addition, he co-authored a technical paper on ways to capture and share tacit knowledge. Leveraging this experience, Mike has channeled his energy and talents into authoring children's books.
"Footsie & Lunko find a home" is Mike's first children's book. It is based on the game he made up to play with his children when they were very young, and which he has shared with his grandchildren. The book is designed to bring this tradition to life for its readers and create the fun that the Kruger kids enjoyed so much. The story revolves around the Miller family whose daughters find two socks at a yard sale. After the family brings the socks home they come to life! The socks love to play King of the Mountain, which forms the basis of a new family game. Readers are invited to play "Footsie and Lunko" with their children after reading the book.
Mike's second book, Footsie & Lunko Meet Captain Al, takes the Miller family on a boating adventure during their visit to Captain Al. Readers will follow Footsie & Lunko and the Millers as they learn about the importance of working together to protect our waterways.
Mike's third book in his series, Footsie & Lunko Discover a Princess, shares the excitement of Footsie & Lunko discovering a princess who helps the Miller children and readers learn that they can be anything they want to be when they grow up, if they are willing to dream big and work hard.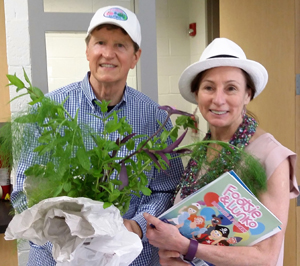 Mike is donating funds raised from the sale of his children's books to support the families of our wounded warriors through the Fisher House Foundation. His books are sponsored by the non-profit organization, Global Assistance, Management and Training (GAMT).
To view Mike explaining his first book and showing viewers how to play Footsie and Lunko, watch the YouTube video.

Author Mike Kruger with Diane Jones at his May 2016 book signing at the Falls Church Community Center.